Council tops up Tree of Tranquility fundraising drive
We would like to say a huge thank you to Councillor Stephen McCabe, Leader, Inverclyde Council and their Policy & Resources Committee for donating £10,000 to SiMBA to complete the fundraising for the Inverclyde Tree of Tranquillity.
We are so grateful for the support that this project has received from the Inverclyde community and beyond and would like to thank Councillor Lynne Quinn and fundraiser Karyn Jenkins (pictured below with Sara Fitzsimmons, CEO, Simba) who have been instrumental in driving this project forward.
The following article was published on Wednesday 5 February 2020 on the Inverclyde Council website
Plans to provide a memorial, SiMBA Tree of Tranquility for bereaved local families can now go ahead, after members of Inverclyde Council's Policy & Resources Committee decided to donate nearly £10,000 to the fund-raising drive.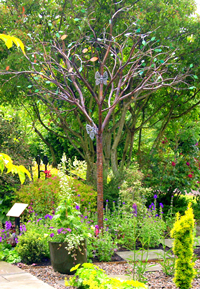 Big hearted councillors decided to top up the fund after hearing that caring local parents, friends and families had already raised £9,699.74.
The SiMBA Tree of Tranquility is a life sized copper sculpture where each leaf honours a baby who has died. The Tree of Tranquility is not just for the newly bereaved but also for those who lost their baby at a time when there was little or no recognition of their baby's existence. The Tree will effectively grow as individually engraved leaves are added, each in memory of a baby who will never be forgotten. The Inverclyde Tree in Gourock Park will also have a bespoke bench to encourage visitors to spend time at the tree site.
Karyn Jenkins is the driving force behind the project. She lost her daughter, Sophie Louise Jenkins, during the 22nd week of her pregnancy. She said, "I am absolutely delighted to hear that the council is helping to pay towards the final cost of our Inverclyde Tree of Tranquillity. It's so nice to know that both the community and the council have helped with the tree and have worked together.
"I am so proud of everyone involved and so grateful for every donation that we received. For the community to have raised over half of the amount required in less than a year is such an amazing achievement and just shows how important the tree is going to be for so many Inverclyde families."
Councillor Stephen McCabe, Convener of the Policy & Resources Committee and Leader of Inverclyde Council said, "I am grateful to my colleagues for supporting this initiative. Losing a baby is a terrible tragedy. Having solid memories of a life, however brief, is a vital part of the healing process. The council is glad to be able to make this project a reality."
Sara Fitzsimmons MBE, RM, Chief Executive of SiMBA said, "When I founded SiMBA in 2005 I had no idea of the reach that our charity would have. The site in Gourock Park offers the perfect location for a SiMBA Tree of Tranquillity, giving those affected by the loss of a baby the opportunity to honour their baby in a simple, gentle and positive way. I would like to thank Inverclyde Council and everyone who has fundraised and donated to support this project."
SiMBA is charity which responds to the needs of those affected by the loss of a baby. In addition to installing bespoke Trees of Tranquility, SiMBA helps families to create memories of their baby by donating Memory Boxes to hospitals and individuals, refurbishing family rooms within hospitals giving families a private space to spend time with their baby, providing  free bereavement training for health care professionals and students, offering monthly support groups and 24 hour support via their closed Facebook pages. For a full list of the charity's services please visit www.simbacharity.org.uk