The Argyle SiMBA Tree of Tranquillity has been officially unveiled with a beautiful service and butterfly release in the grounds of Dunollie Museum, Castle and Grounds in Oban. This is the 8th Tree of Tranquillity that SiMBA has installed the others being in Airedale, Edinburgh, Inverness, Glasgow, Galashiels, Orkney and Dundee *.
We would like to thank the following for their help and support with this project :
• The Trustees of Dunollie Museum Castle and Grounds, who have supported us throughout this project, provided a perfect location for our tree and have allowed us to create a pass allowing free lifetime access to anyone who has a leaf on the tree so that they can visit at any time.
• The Co-op in Inveraray who raised over £2600 to support this project 
• Susan Simpson, our Highland Ambassador, her husband Andrew and her daughters Charis & Niamh who cut the ribbon to open the Oban Tree of Tranquillity in memory of their siblings Eilidh Beth and Alex.
• The local Oban High School pathway students who have played a huge part in clearing the grounds and laying a path to the Tree site.
The area for the Tree of Tranquillity has been created by Eilidh McManus and her team with the help of volunteer support from the pupils in Oban High School. The garden will be such a solace for bereaved families sitting looking at the the plants grow and bloom, listening to the birds singing and having somewhere to go which is precious to them and so many others.

On Friday evening we were joined by many of the families who have had their leaf attached to the tree and Susan Simpson our Highland Ambassador and her family who have worked so hard locally to support this project.

We also have to thank lead midwife Elaine Starkey, Eilidh, Susan, and Roddy McCuish, Councillor and Depute Provost who all read poems which had been written by our parents; and Charis Simpson and her sister Niamh for saying a few words and cutting the ribbon to officially open the Tree of Tranquillity.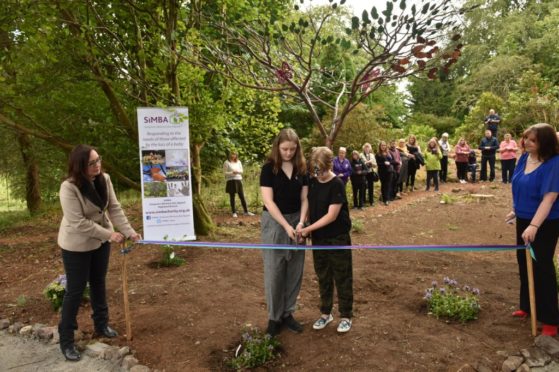 We also had support from local musicians Becky Hill playing the Clarsach, Alison Barrow and Sheila Macgregor aka the "Lush Puppies" singing songs and playing the guitar, and Dawud Duncan performing a beautiful solo piece, each making the service so unique.
Thank you to our volunteers Oban Sea Cadets all who did an amazing job directing and supporting our guests and to Tracey and Kirsty for helping at our SiMBA awareness tables.
Our trees wouldn't be possible without the fundraising and donations from the community, so thank you to everyone who has made this project possible. The tree can now be enjoyed by everyone who visits Dunollie Museum Castle and Grounds

 #Thankyou #SiMBA #simbatreeoftranquility #makingadifference#babyloss #stillbirth #saytheirname
* The SiMBA Tree of Tranquillity is a hand crafted, life sized sculpture, made from copper. The Tree's design is unique to SiMBA, its aim is to offer bereaved families the opportunity to honour their baby in a simple, quiet way; by adding a leaf to the tree in memory of their baby the tree will effectively 'grow' . Our Trees of Tranquillity provide comfort for both the newly bereaved and for those who may have lost their baby many years ago and never saw or held them or knew where their final resting place was. Adding a leaf shows families that they are not alone in their loss while visiting the tree provides a quiet place for reflection.
For more information on our Trees of Tranquillity please visit: 
https://www.simbacharity.org.uk/what…/trees-of-tranquillity/ 🦋