We were so very proud to unveil our Tayside Tree of Tranquillity and hold our first Annual Butterfly Release, in Dundee Botanic Gardens on Sunday 2nd June. SiMBA commissioned the Tayside Tree of tranquillity in collaboration with the following organisations who have joined together knowing the importance of the Tree and comfort that it will bring to those families who can attach a leaf in honour of their baby: 

• NHS Tayside; the maternity staff who organised local fundraising events and all the families who donated
• Paul and Dawnlouise Harris and their family, friends and colleagues who fundraised in memory of their daughter Rae
• Tayside Sands, the families who have donated and their volunteers
• UNISON Tayside Health Branch and all of their members
• The Property Department, NHS Tayside
• The University of Dundee Botanic Gardens, who have supported us throughout this project and provided a perfect location for our tree

The tree will become a special place for so many, a place for comfort, recognition, sadness and peace, giving recognition to babies who have passed away recently or those from long ago. We would like to thank everyone who joined us on the day including Ian Borthwiick, Dundee's Right Honourable Lord Lieutenant and Lord Provost, the Sing it Sign it: Tayside's Makaton Choir, The Dundee Sea Cadets and all of our volunteers who worked so hard on the day for us. 
The following article was published in the Dundee courier and it captures perfectly the spirit of the day. If you would like any more information about the Tayside Tree of Tranquillity please email enquiries@simbacharity.org.uk.
Emotional ceremony as Tree of Tranquillity for babies lost during or after birth unveiled in Dundee
The charity SiMBA unveiled the Tree of Tranquillity in Dundee Botanic Gardens on Sunday in an effort to support bereaved local families.
A detail view of one of the leaves from the tree.
They included Paul Harris and Dawn Louise Campbell, who lost their baby daughter Rae Elise Harris in December 2017, just days before her due date.
The couple helped raise £6,000 for the erection of the tree and shared their story with the gathering after reading a poem, called The Trees of Tranquillity.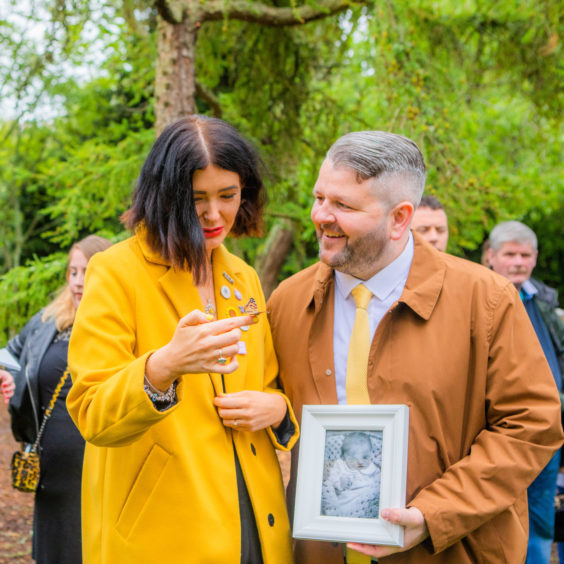 Dawn said it would mean a lot to have somewhere special to remember her.
"You can feel quite shut off after experiencing it and you don't realise how many others have gone through the same.
The unveiling of the Tree of Tranquility at Dundee Botanic Gardens.
"It was an emotional day. When you lose a baby you are just trying to get through the day.
"Just from speaking to others here I feel so much better.
"It's been overwhelming. I'm so glad it's here now."
The Makaton Choir performed several songs before 60 butterflies were released individually by some of those attending.
Funds for the tree have been raised by maternity staff at NHS Tayside, Dundee University Botanic Gardens, members of Unison's Tayside health branch and the charity Tayside Sands, the stillbirth and neonatal death charity.
Sara Fitzsimmons MBE, CEO of SiMBA added: "We are so very proud to unveil this tree of tranquillity in the beautiful grounds of the University of  Dundee Botanic Gardens.
"When a baby dies there is a huge feeling of isolation;  our handcrafted trees of tranquillity show families that they are not alone and our butterfly releases encourage families to come together in a gentle event,  knowing that they are surrounded by others who understand.
"SiMBA is here to offer on-going support to our families and I would encourage you please to visit our website www.simbacharity.org.uk for full details of our support services.
"Please remember that you are never alone, SiMBA is here to help and support you and those closest to you."
SiMBA has helped erect five other similar trees across Scotland as well as one in England.
It specialises in creating individual memory boxes for bereaved parents with 21,000 donated so far.
Article by Jake Keith, Dundee Courier

To see the full article please visit : https://www.thecourier.co.uk/fp/news/local/dundee/905587/emotional-ceremony-as-tree-of-tranquillity-for-babies-lost-during-or-after-birth-unveiled-in-dundee/