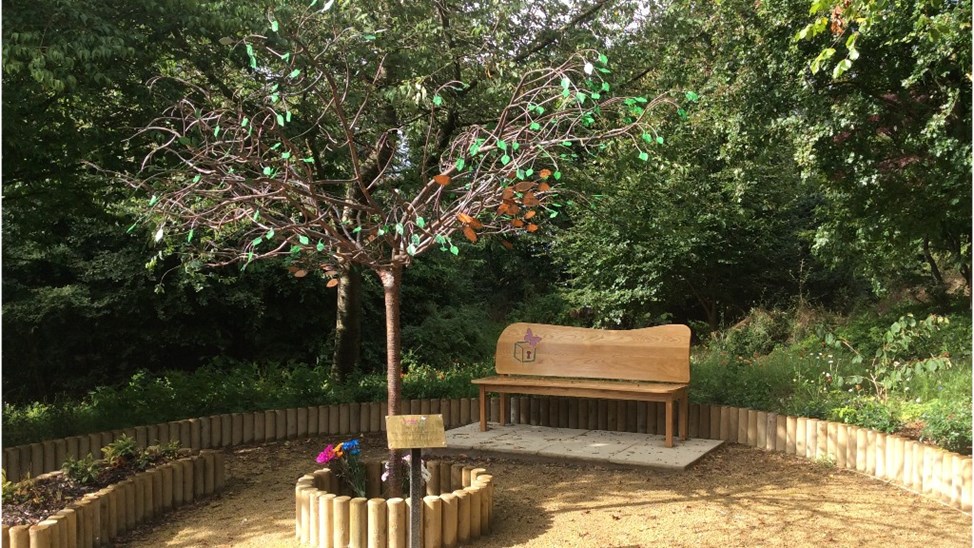 The image above shows the Glasgow Tree of Tranquillity in Provan Hall, Glasgow
We are starting our journey to bring a SiMBA Tree of Tranquillity to Gourock Park, Inverclyde. We want to make this a special place for families to visit, so in addition to the cost of fundraising for a tree and plaque we are also fundraising for a beautiful bespoke bench.
We are very excited to be working closely with the team at Inverclyde Council who have supported SiMBA to find the perfect location for the Tree.
The SiMBA Trees of Tranquillity is a stunning hand crafted, life sized copper sculpture which has been created in response to the needs of parents. The Tree design is unique to SiMBA, and each individual leaf can be engraved with a personal message to honour a baby. Its aim is to offer bereaved parents the opportunity to honour their baby in a simple, quiet way and will effectively grow as leaves are added.
The Tree of Tranquillity is not just for the newly bereaved but also parents who sadly lost their baby years ago and were perhaps provided with little or no recognition of their babys existence. The Tree will provide the means to express a private and public declaration in memory of the lost hopes and dreams for the baby. It is a beautiful symbol of remembrance.
Fundraising for this project has now closed. We would like to thank everyone who has fundraised to allow us to install the inverclyde Tree of Tranquillity and 
say a huge thank you to Councillor Stephen McCabe, Leader, Inverclyde Council and their Policy & Resources Committee for donating the final £10,000 to us to allow us to meet our fundraising target.